Crandon Park Marina
Crandon Park: The land Crandon Park occupies was once part of the largest coconut plantation in the United States, operated by William John Matheson and his heirs. In 1940 the Matheson family donated 808.8 acres (327.3 hectares) of their land to Dade County (now Miami-Dade County) for a public park. In return, county commissioner Charles H. Crandon promised that the county would build a causeway to Key Biscayne. World War II delayed construction, but the causeway opened in 1947.
At one time Crandon Park also included a zoo, occupying 48 acres (19.4 hectares) of the park. The first animals in the zoo, including some lions, an elephant, and a rhinoceros, had been stranded when a circus went out of business in Miami. Some Galapagos tortoises, monkeys, and pheasants were added from the Matheson plantation. Other animals were added, including a white Bengal tiger. In 1981 the Crandon Park Zoo was moved from the park to a location south of Miami and became the Miami MetroZoo, later renamed the Miami-Dade Zoological Park and Gardens.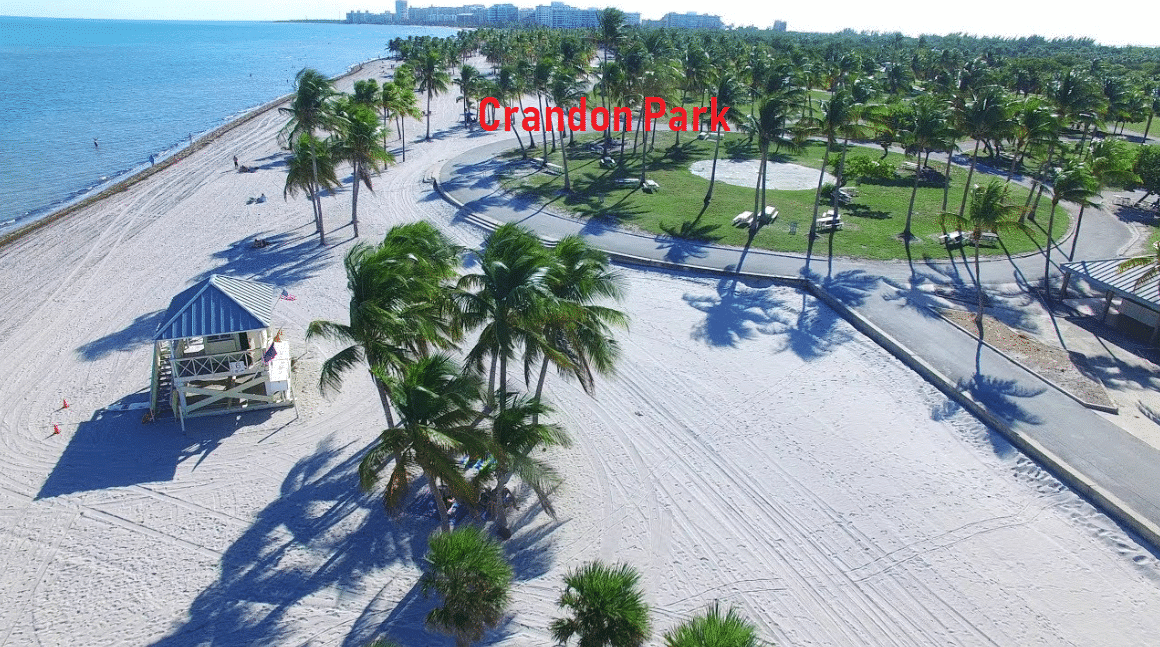 Crandon Park Beach
Looking to relax on a white sand beach with amenities aplenty? You'll be comfortable at quiet Crandon Park Beach this two-mile-long beach is one of the most popular beaches in Miami for locals and tourists alike. Consistently named among the top ten beaches in the nation, the beach features soft sand and the calmest waters in town. The beach area also has beach volleyball courts that are popular for groups of friends or a pick-up game amongst strangers looking for some friendly competition. There are concession stands and plenty of covered picnic areas with tables and public grills. With over 3,000 parking spots, that will cost you a few dollars per vehicle, and two miles of beach, there's always a spot for you, your family, and your friends.
Crandon's beach also offers equipment rentals such as chairs and umbrellas, but that's not all there is to do at this active but peaceful beach. For fun on the water rent some kayaks or stand-up paddleboards, or rent a single or quad bike to explore the park. Sometimes you don't want to stay in the sun all day, and that's all right because Crandon Park also has beach cabanas available to rent daily from 8 a.m. to sunset, on a first come first serve basis. The private cabanas provide a 10′ x 10′ space, a private shower, and an assigned parking space.
Is Crandon Park free?
Once you enter Key Biscayne proper, drive down Crandon Boulevard until you hit Village Green Park. There's free parking all around the park's perimeter, a rarity in Miami. … Hotels and condos line the east side of Crandon Boulevard, making it impossible to enter if you're not living or staying there.
About Crandon Park?
Now, the park on the northern tip of Key Biscayne is open to the public year-round and boasts beaches, beautiful wildlife, a gorgeous golf course, and a world-class tennis center. At Crandon Park, there's something to do, no matter your mood.
Does Crandon Park allow dogs?
Crandon Park does not allow any dogs/pets, however, Haulover Park does in designated areas in the designated beach area between lifeguard tower #2 and #3 only. Dogs are welcome with their companion on the portion of the Haulover beach directly across from the bark park and accessible through parking lots #3 and #4.
Crandon Park Miami
Is golf your game? Crandon Golf at Key Biscayne is a former PGA Senior Tour stop and has been rated as a top ten course by Golfweek and one of America's top upscale courses by Golf Digest. One of the most beautiful public golf courses in the country, the course features 18 holes amongst the mangroves and seven salt-water lakes. The seventh hole of the par-72 course is renowned in golf circles as "One of the Greatest Holes in Golf" because of its unmatched views of Biscayne Bay's lapping blue waters facing the Atlantic. If you don't have time for a full round, Crandon Golf also features a lighted driving range, practice chipping, putting greens, and a pro shop. After your round, stop by Fairways on the Key in the clubhouse, where they serve light American fare with South American spices overlooking the golf course.
Want to explore the island a bit more? The Crandon Park Visitor and Nature Center, open daily from 8 a.m. to 4 p.m., gives visitors the unique experience of exploring the park's landscape full of dunes, mangroves, and seagrass to observe wildlife such as ospreys and herons and unique South Florida fauna like the coontie, beach peanut, and Biscayne prickly ash. The beach is also home to plenty of marine animals such as sea turtles, mangrove snappers, parrotfish, and sea stars. For a more structured tour of all the area's natural beauty, The Bear Cut Preserve at Crandon Park provides a look into South Florida's past, featuring an Environment Study Area with experts to guide visitors through Bear Cut to explore the natural history of South Florida and Key Biscayne.
We know what you're thinking, "What more can I possibly ask for?" How about some world-class tennis? The Tennis Center at Crandon Park has been the home of the Miami Open since 1987. Lovingly referred to as tennis' "the fifth major" by many tennis stars and experts, the Miami Open at Crandon Park takes place annually during the last two weeks of March. Top players such as Roger Federer, Serena Williams, Rafael Nadal, Andy Murray, and Novak Djokovic are regulars at the tournament. Throughout the rest of the year, the 26 court tennis center is mostly available for court rental starting as low as $4 per person. It features hard, clay, and grass courts, and offers lessons year-round.
Tennis Center At Crandon Park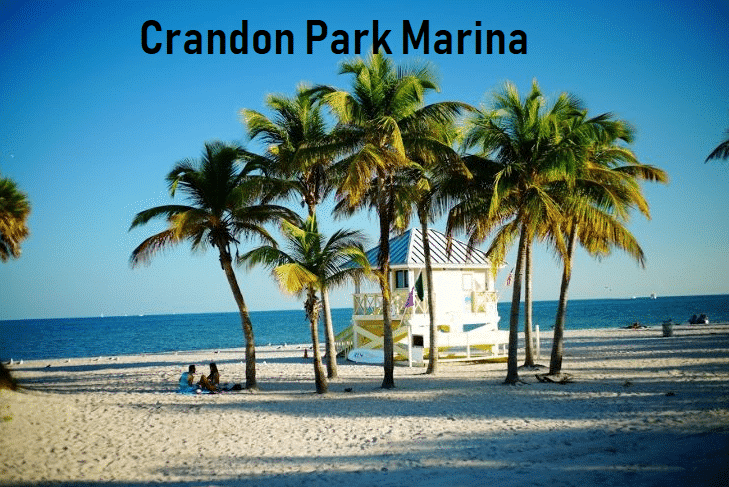 Crandon Park, a beach, tennis center, golf course, and nature center all-in-one, is a local favorite for residents of Miami-Dade County. Located on the northern part of Key Biscayne, the public park occupies over 800 acres of the island. Getting to Crandon Park is easy: Cross the Rickenbacker Causeway from the mainland, drive through Virginia Key and pass the famous Miami Seaquarium. Get there early, there is plenty to do. Plan on spending a long day enjoying the many amenities in the sun at Crandon Park.
Crandon Park was once part of the largest coconut plantation in the country and was owned and operated by South Florida pioneer William Matheson whose name is lent to another classic Miami attraction – Matheson Hammock. In 1940, the Matheson family donated a large chunk of land to Miami-Dade County for a public park, and Crandon Park was born. Now, the park on the northern tip of Key Biscayne is open to the public year-round and boasts beaches, beautiful wildlife, a gorgeous golf course, and a world-class tennis center. At Crandon Park, there's something to do, no matter your mood.
Crandon Park Key Biscayne
One of seven heritage parks in Miami-Dade County, Crandon Park is located on a barrier island in Key Biscayne, with 2 miles of beach to the east and Biscayne Bay to the west. Today, it's one of the most frequented parks and beaches in Miami, but its history dates back almost 80 years! Read on below for everything you need to know before visiting Crandon Park in Key Biscayne.
Once part of the largest coconut plantations in the U.S., Crandon Park was owned by the wealthy Commodore William John Matheson. In 1940, the Matheson family so generously donated over 800 acres to the county under the condition that Miami-Dade would create a public park there. But first, a bridge needed to be built connecting Key Biscayne to the mainland. Seven years later, Rickenbacker Causeway was born and Crandon Park officially opened to the public.
Crandon Park Tennis Center
The zoo is no more, but there's still lots to do at Crandon Park, located on the northside of Key Biscayne. Spend the day lounging at the beach, but don't forget sunblock, Miami's rays are strong. If activity and adventure are more your speed, grab a partner, and engage in a friendly tennis match. With volleyball nets on the sand, it's easy to get a pickup game going with family, friends, or even like-minded strangers. Golf is an option, too. If you've brought the kiddos along, exploring nature might be right up your alley.
There are plenty of bird species you'll spot as well as fish and even a couple of iguanas. If you're really lucky, you'll see dolphins or manatees out on the water. Get your cameras ready but always stay an appropriate distance away from wild animals for your safety and theirs. If you're hungry and didn't pack a lunch, head on over to nearby Boater's Grill or the Lighthouse Cafe for traditional Cuban cuisine and super fresh seafood.
Crandon Park's amenities include Crandon Gardens, the Crandon Park Visitor and Nature Center, a marina, a golf course, a tennis center, picnic areas with tables and public grills, bicycle and running paths, and, of course, the beautiful beach area. You can rent equipment at Crandon Park's beach, like chairs and umbrellas for a little relief when the afternoon sun is scorching. If you're even more serious about sun protection, rent a beach cabana (first come, first serve from 8 a.m. to sunset). Cabanas come with a private shower and an assigned parking space.
You can also rent kayaks and stand-up paddleboards, as well as single or quad bikes to make your way around the park. Also, if you've never gone kiteboarding before, this is your chance.
Crandon Park Zoo
Getting to Crandon Park is not complicated as there's only one way in and out of Key Biscayne. Arrive at Rickenbacker Causeway from the mainland (or if you're coming from South Beach, you'll take the I-95 highway south) and cross into Key Biscayne. You may have to pay a toll fee on your way onto the island. Drive through Virginia Key and past the Miami Seaquarium until you see signs for Crandon Park. Park entry, which includes parking (don't think you won't find a spot — there are over 3,000 parking spaces here) and beach access is $8 per vehicle (with two to eight passengers), $4 per single-occupant vehicle or motorcycles, and $2 per pedestrian or bicyclist.
There's plenty to do in Key Biscayne, whether you're on your way to Crandon Park or headed back home. Work up an appetite by taking a free guided tour of the Lighthouse at Bill Baggs State Park. Climb 109 stairs to the top for a breathtaking, 360-degree view. Head to the Rusty Pelican for a bite. The restaurant's award-winning weekend brunch is fantastic, as is the happy hour and the incredible watercolor sunset views. Folks come from all over to eat at Rusty Pelican as the sun is going down. Immediately next to the Rusty Pelican is Whiskey Joe's Miami Bar & Grill.
You can dock your boat here and ride out into the sunset or, if there's no boat, you can just hang out here with a tropical, fruity cocktail while listening to the live band play everything from Margaritaville to Brown-Eyed Girl. Happy hour is also fantastic at this waterside bar and, maybe the best thing about it, is that you can go as you are. The more board shorts, bikini tops, and flip flops, the merrier. Although furry friends aren't allowed in Crandon Park, there is one beach on the Key Biscayne island that's dog-friendly.
Hobie Island Dog Beach is a fun, carefree place to take your pup, who might really enjoy a little salt and wind in his hair. If this is part of your plan, make sure to pack pup-approved treats, plenty of water, and some dog toys or tennis balls. It'll be an experience to remember, that's for sure.
Topics #crandon park #crandon park amusement center #crandon park beach #crandon park beach florida #crandon park beach key biscayne #crandon park beach miami #crandon park beach parking #crandon park bike rental #crandon park bike rentals #crandon park cabana rentals #crandon park cabanas #crandon park florida #crandon park gardens #crandon park golf #crandon park golf course #crandon park hotels #crandon park hours #crandon park key biscayne #crandon park key biscayne fl #crandon park lighthouse #crandon park map #crandon park marina #crandon park miami #crandon park miami fl #crandon park nature center #crandon park north beach #crandon park parking #crandon park rentals #crandon park shelter map #crandon park shelter rental #crandon park south beach #crandon park tennis #crandon park tennis center #crandon park weather #crandon park wedding #crandon park weddings #crandon park zoo #fl #hotels near crandon park #hotels near crandon park miami #hotels near crandon park tennis center #key biscayne and crandon park #key biscayne crandon park #miami fl #miami open crandon park #tennis center at crandon park #tennis center at crandon park events #tennis center at crandon park seating chart #weather crandon park